A Tribute to Arabella Churchill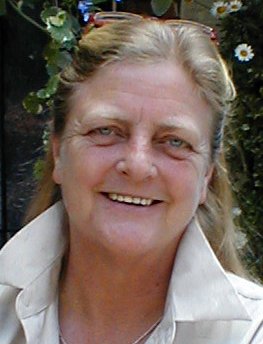 Some very sad news for all those who love Glastonbury and the huge diversity which makes it still the best festival in the world. Arabella Churchill, co-founder of the Festival and a much-loved figure to all those who perform there, sadly died aged a very young 58, just before Christmas. Deepest condolences go to her husband Haggis and all her family and friends from myself and my wife Robina.

Arabella, granddaughter of Sir Winston, had rebelled totally against the Churchill dynasty and was very much part of the 60s hippie scene. When Michael Eavis decided to start a festival, Arabella took on the role of creating and organising a Theatre and Circus area. As many people know, the first Glastonbury Festival happened in 1970 with the legendary Marc Bolan headlining, typically arriving in a pink Cadillac... as you do (or he certainly did!) and from then on it grew year by year, very slowly at first. Arabella booked me for the first time in 1982, to do a show in her Theatre Tent. It is a weekend I will remember vividly as long as I live, and in tribute to her I'm going to share a memory which has never come out of (painful, ointment-sodden) wraps before!

I'd only been performing for a couple of years at that point, hadn't done many festivals, and certainly not one where you camped on site. My main knowledge of Glasto before I went was that a) Bolan had done the first one and b) it was full of hippies. I, of course, was a full on ranting punk poet, fresh from all kinds of high octane gigs and confrontations with Nazis, I ate hippies for breakfast, and I was fully intending to do so at Glastonbury.......

I'd never put a tent up in my life, and just thought I'd get so pissed I didn't care where I slept and then crash in a corner somewhere. So I turned up with just my mandola and, once I got there, bought an enormous plastic container of the roughest and strongest cider I could find. I did my first performance in the tent just after Rik Mayall (who at the time was doing his Kevin Turvey routine, fellow old gits will remember that) and, despite taking the piss out of the hippies, went down very well. Then I went out into the bright sunshine, sat on the grass and got stuck into the cider. I'd never drunk much rough cider before, and very soon it, and the heat, were having a very strange effect on me. I was very tired. Enthused with the spirit of Glasto (or maybe just the spirit of a 9% brew which tasted as though a dead rat had fallen into the mash) I stripped naked, lay down in the sun, and went to sleep........

JOHN!!!! JOHN!!!!! WAKE UP!!! YOU'RE ROASTING!!!
It was my ranting poet mate Seething Wells. Shouting at me and shaking me. I groaned. Then came the bucket of water. SPLAAAAAAAAAAAAAAASH! Freezing cold water brought me back to my senses - lying naked on the grass, sunburnt to an agonising frazzle. The fascists had always called me a red bastard, and their assessment was never more accurate than at that moment. Then I looked down in shocked disbelief to see that certain bits were even redder and more tender than the rest of me and looked like something you'd expect to find in a butcher's display case. Ow. Mega-big ow. I somehow got some underpants and jeans on and staggered back into the corner of the tent feeling very sorry for myself. As the sunburn agony increased, I drank even more cider, and then I passed out.

When I woke up again it was dark outside, the tent was nearly empty, I was freezing cold and boiling hot simultaneously, and Arabella was gently shaking me.

'You can't sleep here in that state, Attila. Come and stay in my tent......' And I did. No sniggers, please. Nothing was intended, and even if it had been, nothing would have been remotely possible! She simply looked after me. Gave me a cup of tea, some organic cream or other to smother my misery with and a comfortable corner of her tent to crash in for the two or three days I was there. Of course, the immediate couple of days after extreme sunburn are the worst, and the pain was awful. But I did see the funny side. (And Seething bloody Wells made sure every other bastard at Glastonbury saw the funny side as well. Thanks Swells.)

Over those few days Arabella became not just a gig organiser, but a friend. And she must have liked my performances, because for the next 25 years she booked me for every single Glastonbury.

I watched the festival grow into a full-blown commercial event, one of the biggest in the world, with huge mainstream headlining bands and a rapidly expanding and changing audience base, many of whom I'm sure don't venture much past the main music stages and the beer tents. But Michael Eavis was still determined to keep the original spirit of Glastonbury alive, and nowhere more was, and is, that spirit to be found than in Arabella's Theatre and Circus area. Out in the fields, hundreds of visual artists and performers of all kinds, shapes and sizes: a Cabaret Marquee which is precisely that, not taken over by big time TV comedians but celebrating all kinds of spoken word and music: a vibrant and diverse theatre and circus programme in the marquees. Arabella and her colleague Chris booked all the performers themselves, and Arabella wrote to each one personally. It was truly her creation. She will be missed so much by all those who knew and worked with her, both at Glastonbury and at the Childrens' World charity which she established.

She'll certainly be missed by me.


---
Attila the Stockbroker
---